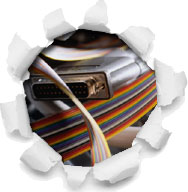 Technology Infrastructure
Stable and Secure Computer Environments
Winning Solutions, Inc. (WSI) works with dozens of clients in Central Iowa to assist them with developing and maintaining a stable and secure computing environment. Whether it be deploying a new network from scratch, upgrading the server on an existing network or adding new security to combat today's greater Internet threats WSI experienced network technicians are ready to assist you.
Click Here to get a free quote on your computer and network needs.
Common Technology Infrastructure Questions
My business hasn't upgraded its computer system since Y2K and we know it is time, but we aren't sure where to start?
WSI will work with you to find out what your current business needs are and what future goals you have. From that point WSI's experts who have built and deployed over 2,500 servers and PC's with experience dating back to the 1970's will begin to design a solution based on your business that incorporates the latest computer technology. Contact us today for a free estimate to begin upgrading your systems.
We are having problems with Popups and PC's running slowly, what should we do?
You are not alone. Many businesses and individuals are plagued by these problems. Unscrupulous individuals are abusing weaknesses in the Windows web browser and operating system to cause these problems. Unfortunately, these problems are not just annoying, they may be dangerous to your company's reputation. They may allow people to steal confidential information from your systems by installing keystroke loggers or even send spam from your computer. Today anti-virus software is not keeping up with these new evolving threats. WSI sells, installs and supports not just the latest anti-virus solutions but also anti-span and anti-spyware solutions. WSI can help your business be proactive about computer security! Contact us today for a free estimate to begin protecting your computers.
We are trying to understand all the complex software licensing programs offered by the companies whose software we use, but it is almost impossible, can WSI help?
Today software licensing has almost become more daunting than setting up the software itself. WSI personnel have work with all the major vendor's licensing programs for years. They are able to guide you through this complex process and help you get on the licensing program that is right for your business. Contact us today for a free estimate to begin your software licensing programs.
Technology Infrastructure Customer Samples
Lincolnway Energy, Nevada Iowa
This is one of the new Ethanol plants that will be producing renewable energy to power vehicles for years to come using corn. WSI has worked closely with them beginning early in the construction process. We helped them phase in new servers and PC's as staff was added. It takes many technology providers to make one of these facilities function smoothly. WSI works together with the other providers to insure that the client's needs are met. We advise the client on software selection, including the many complex software licensing options available today. WSI helps keep their network secure by deploying and supporting industry leading security hardware and software.
Freedom Financial Bank, West Des Moines, Iowa
WSI works closely with the bank to help keep their network functioning properly. We routinely review network operations, provide recommendations on new hardware and software. We also help the client deal with the complexities of software licensing.
PMI Iowa, Ames, Iowa
WSI provides support for both office computer infrastructure as well as their field staff. This includes supporting the staff's ability to work from home. WSI supplied their server, plotter and network infrastructure. We provides local on-site support their third party Dell PC's and laptops. WSI designed a point to point T1 communications solution to allow PMI, to leverage one of their business partners for Internet access. This eliminated a problem with DSL range restrictions.
Technology Infrastructure Case Study
Citizens Savings Bank - Marshalltown Iowa
Please click here to get a detailed case study on what WSI has done and is currently doing for one of our clients.
Technology Infrastructure Industry Experience
WSI has vast experience in a number of different industries:
Banking
Educational
Healthcare
Hospitality
Government
Insurance
Manufacturing
Real Estate
Sports
Transportation
Agriculture
Construction
Advertising
Mortgage
Non-profit Agency
Religious